Ten creative, thoughtful and, sometimes, downright hilarious short films made by rangatahi during E Tū Whānau-sponsored workshops were screened at the E Tū Whānau Rangatahi Film Awards 2023.
The Awards are part of the annual Māoriland Film Festival.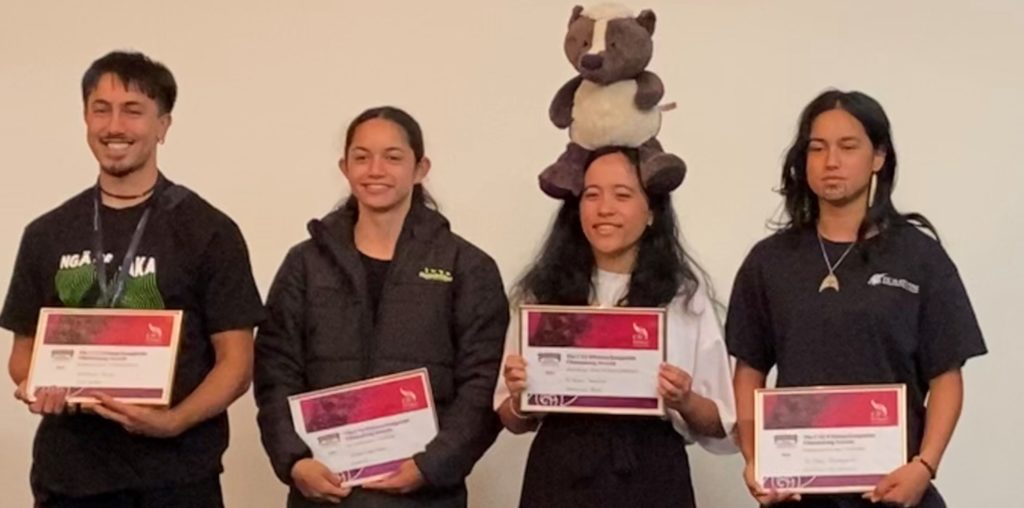 Te Ihorei/Film Maker of the Year went to Te Paea Parengaio (Tūranganui-a-Kiwa) Collective for their clever, satirical swipe at political posturing in their short film, Elections for Dummies. Maaria Gaby-Heke took out the award for Te Ahikā/Best Performance for her role in Moana St while Awatea Broederlow was awarded Te Kaitohutohu Toa/Best Director for Ruataniwha.
Additional awards were also made for specific film-making skills (full list below).
"Our tamariki are bright and talented," says Pou Ruruku Rangatahi at Māoriland, Oriwa Hakaraia (Ngāti Raukawa, Ngāti Kapu).
"Stories run in their blood and our kaupapa shows them that they are capable of pursuing a career in storytelling."

Oriwa Hakaraia
Successful workshop programme
The E Tū Whānau Rangatahi Film Awards 2023 recognised the 50 filmmakers, aged 12-25, who created films during one of last year's E Tū Whānau-supported workshops in Ōtaki, Whakatāne, Tūranganui-a-Kiwa, Rotorua, Te Araroa and Kaitaia.
These film-making workshops bring to life the shared aspirations of E Tū Whānau and Māoriland to empower rangatahi Māori to tell stories from their unique indigenous perspectives, while incorporating the E Tū Whānau values. The workshops also give rangatahi Māori technical skills while opening potential career pathways and boosting their confidence and wellbeing.
This decade-long collaboration between E Tū Whānau and the wildly successful Māoriland Film Festival (MFF) has produced over 100 films and given more than 5000 rangatahi throughout Aotearoa their first taste of film-making.

Film-making workshops by rangatahi for rangatahi
The workshops are run by Ngā Pakiaka, the collective of young film-makers behind Māoriland's burgeoning rangatahi programme. Most are workshop graduates. They're tēina running the workshops to tuākana, tapping into the innate storytelling and performance skills of rangatahi who are as enthralled by the magic of movie making as they are.
Ngā Pakiaka now organises the E Tū Whānau Rangatahi Film Awards as well as the programme of rangatahi film-making workshops run across Aotearoa. They also run a series of additional workshops in the Pacific.
Graduates become film-makers
These E Tū Whānau sponsored workshops are an entry point into Te Uru Maire, the Māoriland development pathway into the screen industry which offers access to training, mentorship and professional development.
Many, like Oriwa Hakaraia, are now working in the industry. She attended one of the first workshops and went on to make her own short film, Ruarangi. In 2022 Ruarangi was an official selection at both the Hawai'i International Film Festival and the Skábmagovat Indigenous Film Festival in Finland.
Other graduates include Isaac Te Reina, whose recent production Whiti won Best Short Drama at Māoriland Film Festival 2021; Te Mahara Tamehana, whose short film Bub (co-directed with Oriwa Hakaraia) screened at Toronto's ImagineNATIVE Film + Media Arts Festival in 2019; and Te Waiarangi Ratana, whose short film Manu Masters is currently in development to be expanded into a TV series.
E Tū Whānau Rangatahi Film Awards 2023 winners
You can see all ten award winning films here.
TE IHOREI – Film Maker of the Year
Te Paea Parengaio (Tūranganui-a-Kiwa) – Elections for Dummies
PEPA KOTIKOTI KŌHATŪ – Best Edit
Te Aroha Harrison (Tūranganui-a-Kiwa) – Reporting aLive
WAI ORA – Best Use of Theme
Team Hunting Aotearoa (Rotorua) – Hunting Aotearoa
TE AHIKĀ – Best Performance
Maaria Gaby-Heke (Ōtaki) – Moana St
PAKIPŪMEKA MĀTUA – Best Documentary
Mokena Delamere (Te Araroa) – Ngā Hua o Matakaoa
TE KAITOHUTOHU TOA – Best Director
Awatea Broederlow (Te Araroa) – Ruataniwha
TE TINO WHAKAATAATA – Best Drama
Tiare Ruawai (Whakatāne) – Kia Kaha
MĀIRE RAUNUI – Rangatahi Leader Award
Matariki Black
Want more?
Join the E Tū Whānau communities on Facebook, Instagram and YouTube
Read how E Tū Whānau Māoriland film-making workshops are helping rangatahi find their voice
Read about E Tū Whānau Rangatahi Film Challenge Awards 2021