E Tū Whānau is a kaupapa Māori movement for positive change.
The kaupapa nurtures and celebrates:
Te Ao Māori taking responsibility and action to create positive change
Te mana kaha o te whānau! − doing things that make whānau strong
tikanga and Māori values − drawing on rich and powerful traditions
kahukura − the people who lead and inspire change in whānau and communities.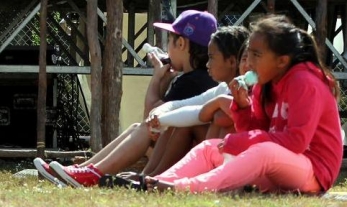 The E Tū Whānau kaupapa was developed after extensive kōrero within Te Ao Māori about the values and behaviours that support strong, resilient whānau who are free from violence.
On this website we celebrate whānau throughout Aotearoa as they build and create healthy, positive lives together.
The violence free and whānau centered kaupapa of E Tū Whānau is proudly Māori but it's proving rich and inspirational to our refugee and migrant communities as well.

Want to know more?
Meet the Māori Reference Group or read more about how the E Tū Whānau kaupapa includes migrants and refugees.
Read stories of positive change from whānau across Aotearoa or read about the six E Tū Whānau values.
Sign up to the Charter of Commitment or get in contact.