"Positivity, or at least a positive outcome for your kōrero, is the key in this design and illustrates that there is always a way forward.
This poster is designed to encourage us to realise the extraordinary within the ordinary things we do every day and how we treat each other every day." – Siobhan Houkamau, Ngati Porou.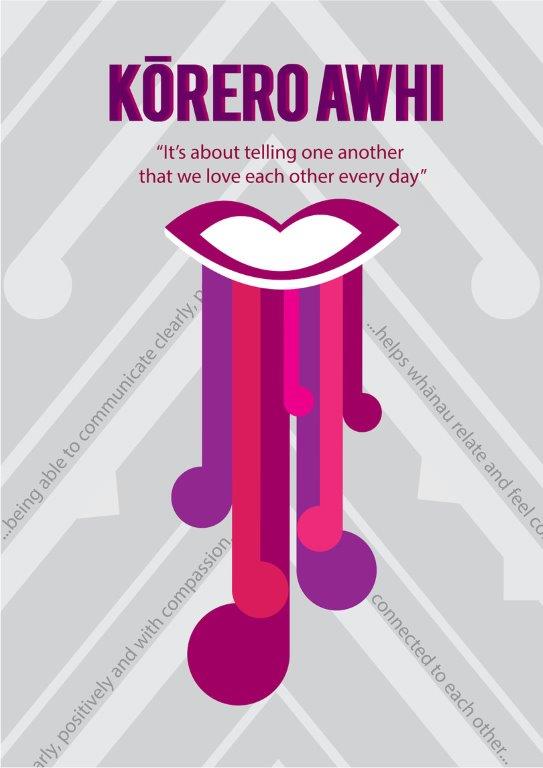 Interpreting a beautiful concept like kōrero awhi visually is natural for Palmerston North film editor and documentary maker, Siobhan Houkamau.
Her winning design in the Kōrero Awhi section of the 2019 E Tū Whānau Poster Competition focuses on a mouth.
"That's where your kōrero comes from and the different coloured koru beneath it, like a moko kauae, represent all the different words or phrases we use to mihi to someone to create a loving kōrero and a loving environment, different kōrero from people of all ages and types that nourish a person.
"I grabbed quotes that I thought would work from the E Tū Whānau website, played around with different colours for the background until I settled on a grey that accentuates the images in the forefront. The grey speaks to the dull bits in life, those moments when you might feel robotic or alone."
Film editing may be Siobhan's day job, but graphic design projects keep grabbing her attention.
"I'd played around with graphics programmes, designing logos for my old kapa haka team and stuff like that, then I heard about the E Tū Whānau Poster Competition on the local iwi station back home in Gisborne," she said.
"I really hadn't engaged with the kaupapa but now that I know more about it I think it's awesome, positive and just the sort of kaupapa our people need."