"I wanted to make the overall shape like a globe with the elements to look like the earth.
This suggests that we are all part of the whenua and when there are tough times and tragedy, people from all over connect.
They send aroha, awhi, and positivity across the world to people who need it or causes that are trying to help save it." – Jordan Schick , Te Arawa. Winner, Whanaungatanga Category, 2019 Poster Competition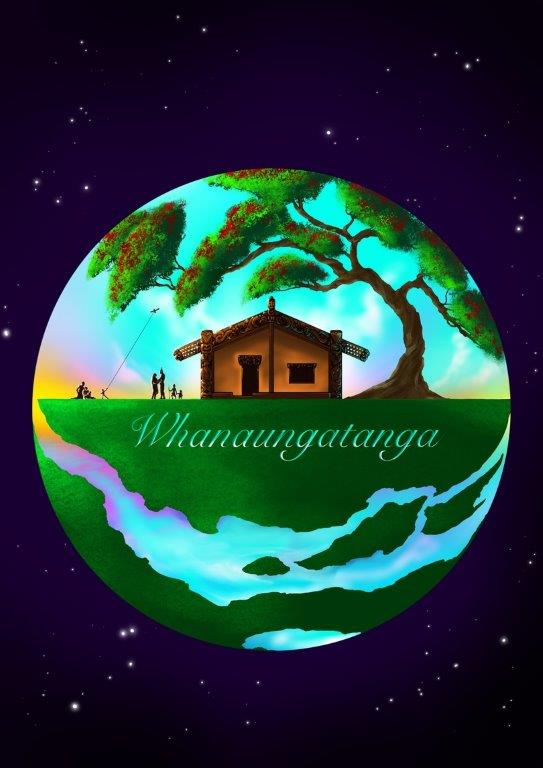 Jordan Schick has done it again.
Winning the Whanaungatanga section of the 2019 E Tū Whānau Poster Competition is a repeat of Jordan's success in the Aroha category of the first Competition held late 2018.
This year, his whanaungatanga image is a globe floating in a starry universe with a wharenui framed by trees and the flowing waters of Papatuanuku at its centre.
The Whakatane based pre-school teacher said that he started playing with ideas of Papatuanuku as the heart of all community and this developed into the global theme expressed in his winning poster.
"I thought about whanaungatanga on a personal as well as a global level. The wharenui had to be the focal point, the place where we all come to connect. On one hand, it's reminiscent of the wharenui of our tipuna but it also speaks to the connected, internationally focussed world we are all part of now."
"The people in the image are literally connected to each other, kanohi ki te kanohi," he said.
Jordan enjoys his career as an early childhood educator as well as his artistic mahi. He's in the process of completing a book illustration commission and working on his own project, a series prints of different Māori Atua.