Congratulations to all the winners in the E Tū Whānau Song Competition 2017!
East Coast Breevaz, a three man reggae band from Gisborne, has taken out first prize with One Love, a waiata that challenges pakeke (adults) to inspire and educate their rangatahi and build a brighter future for all.  One Love is written and performed by band members, Pakanga Te Whitu, Puna Manuel and Greyson Mauheni.
"Our song is about us rangatira uplifting and guiding our rangatahi towards a brighter future for the Māori nation," says Pakanga Te Whitu.
Everybody's song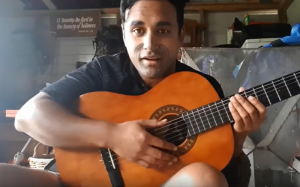 Tommy Waititi of Cape Runaway won second prize for writing and performing The Ol'famz-alee, a heart warming waiata about the simple things that make whānau special.  He's encouraging everyone to learn it, sing it and make it their own.
"This song is for anyone living away from home, who gets that throbbing heartache for the simple life on the coast, being with family, and enjoying quality time with nature," he says.
Home is where the heart is
Maioha Panapa from Hamilton was placed third for writing and performing Home, a beautiful celebration of whānau, aroha and the importance of home.
"From my perspective, home is more than just a place.  It's that feeling when your heart is at one with the environment," she says.
Judges Maaka Phat, Maisey Rika and Ranea Aperahama chose the top three songs from the ten songs with the most public votes to determine who should receive first ($5000), second ($2000) and third prize ($1000).
All entrants commended
The judges described their task as challenging but joyous and commended the entrants for their efforts and for opening their "hearts to be viewed and judged by the world".
Talking on behalf of his colleagues, Ranea Aperahama said that the ten songs that received the most votes were a small but significant example of the copious talent that exists in Aotearoa.
"You are all winners, just for standing and being counted," he said.
Entrants were asked to write an original song inspiring positive change, and incorporating one or more of the six E Tū Whānau values (Mana/Manaaki, Kōrero Awhi, Aroha, Whanaungatanga, Whakapapa, Tikanga).  The songs were then uploaded to the E Tū Whānau Song Competition facebook page and the public were able to vote daily for their favourite entries.
Increase in entries
The E Tū Whānau Song Competition was held for the first time in 2016.  This year, 63 of the 77 entries received were approved for entry.  The competition received 42,000 votes, an increase of 10,000 compared with the previous year.
The Māori radio stations with the most entrants from their areas were Radio Waatea (Auckland) with 14 entries, Atiawa Toa FM (Hutt Valley/Wellington) with eight entries, and Radio Ngāti Porou (East Coast) and Tainui FM (Ngaruawahia/Waikato) with seven entries.  However, Radio Ngāti Porou – who this weekend will celebrate its 30 year anniversary – can claim victory with two of their entries taking out first and second prizes.