Pupils at the Te Horo School in the small Northland town of Pipiwai, have challenged others in their rohe to 'get up and get moving' following their own, successful '24-hour Moveathon'.
Tamariki, kaiako and parents were buzzing after their team effort that saw at least one of the schools' 40 pupils engaged in some kind of physical activity over a 24-hour period during the last weekend in November 2020.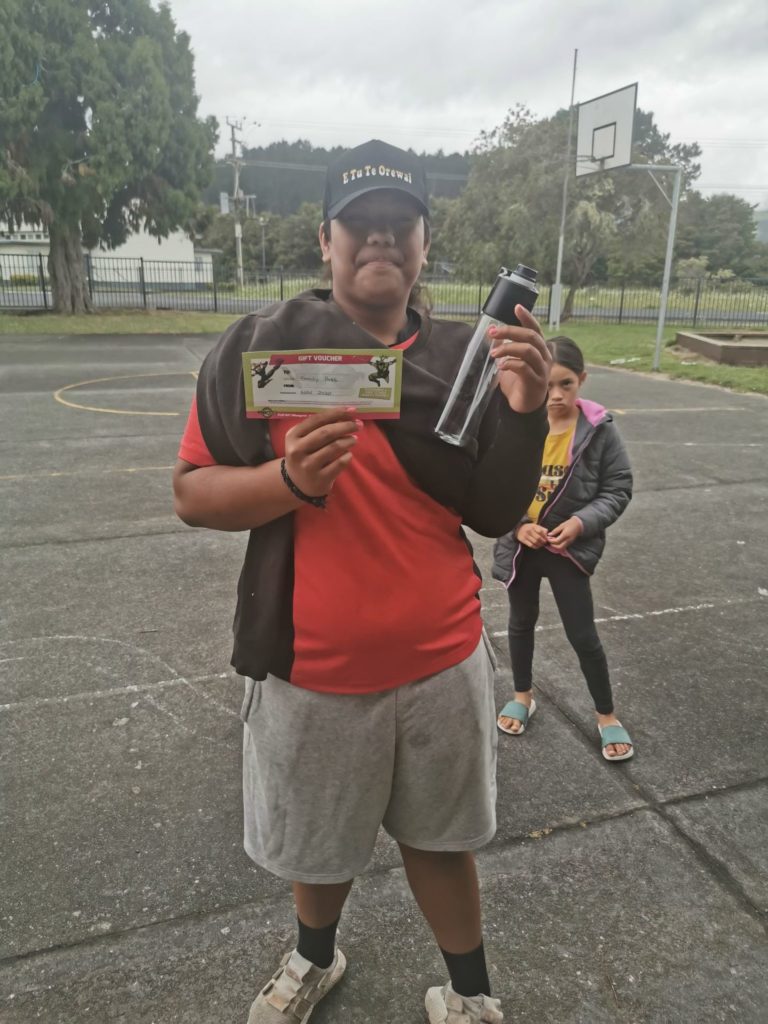 The Moveathon gave rangatahi the chance to participate, contribute and achieve.
Te Horo School lays down a challenge
When local kuia, Heeni Black raised a rākau and spontaneously challenged other school communities to do the same, their response was loud and proud.
Event coordinator, school caretaker and all-round busy mum, Lizzie Ranui, said the challenge, and the rākau that goes with it, wasn't planned.
"It's a wonderful idea that's just taking off. It's a way to encourage others to get on the same waka," she said.
The school community has decided to sand and varnish the rakau, cut a hole at the top and thread a plaited flax leaf or a feather through it before passing it around the motu. This will hold the mauri of the kaupapa.
"The next school can attach something of significance to their community before passing it on. It'll be lovely to see how beautiful the rākau will become," Lizzie said.
Community approach to getting tamariki and whanaunga active
Although team sports are well supported at Te Horo School, the Moveathon was designed to encourage all tamariki and their whanaunga to be active. The purpose was to get them into the habit of caring for their own bodies, for their hauora.
"The kids were a bit unsure to start with, but we began slowly with just 10 minutes of training a day, then it was 20 minutes, and the energy grew. Tu Kaha, the boxing gym down the road, gave us a kick start by opening their doors and encouraging tamariki to train at lunchtime.
It's that sort of whanaungatanga that builds confidence in our tamariki – having a cousin down the road, someone to look up to, to show them how to train and be the best they can be," Lizzie Ranui said.
Great outcomes for the Te Horo School Community
Lizzie couldn't be more proud of the way everyone in the close knit school community ran with the idea.
"Our young parents are motivated and engaged with their kids. We provided kai and all the things you need to do and make sure the environment is safe and comfortable for the whole 24 hours, but our resources are limited."
Everyone, she said, was grateful for the manaakitanga shown by E Tū Whānau and other local organisations and community groups.
"It was a massive achievement that took a lot of planning and commitment from the tamariki, the school and the wider whānau that supported them. It was only possible through the whanaungatanga, manaakitanga and aroha showed by all for whānau and hapori."
If your community, marae, hapū, or club is keen to take up the challenge, feel free to get in touch with Shirleyanne Brown on wotmatters1@gmail.com
Want to know more about E Tū Whānau?
Read about the E Tū Whānau values or browse resources based on the values
Sign the Charter of Commitment and sign up for our Pānui