The words, 'Whakapapa', 'Identity' and 'Belonging' unfurl on a banner that binds a mother and her pepi with their tane and tipuna in the most popular design in the E Tū Whānau poster competition.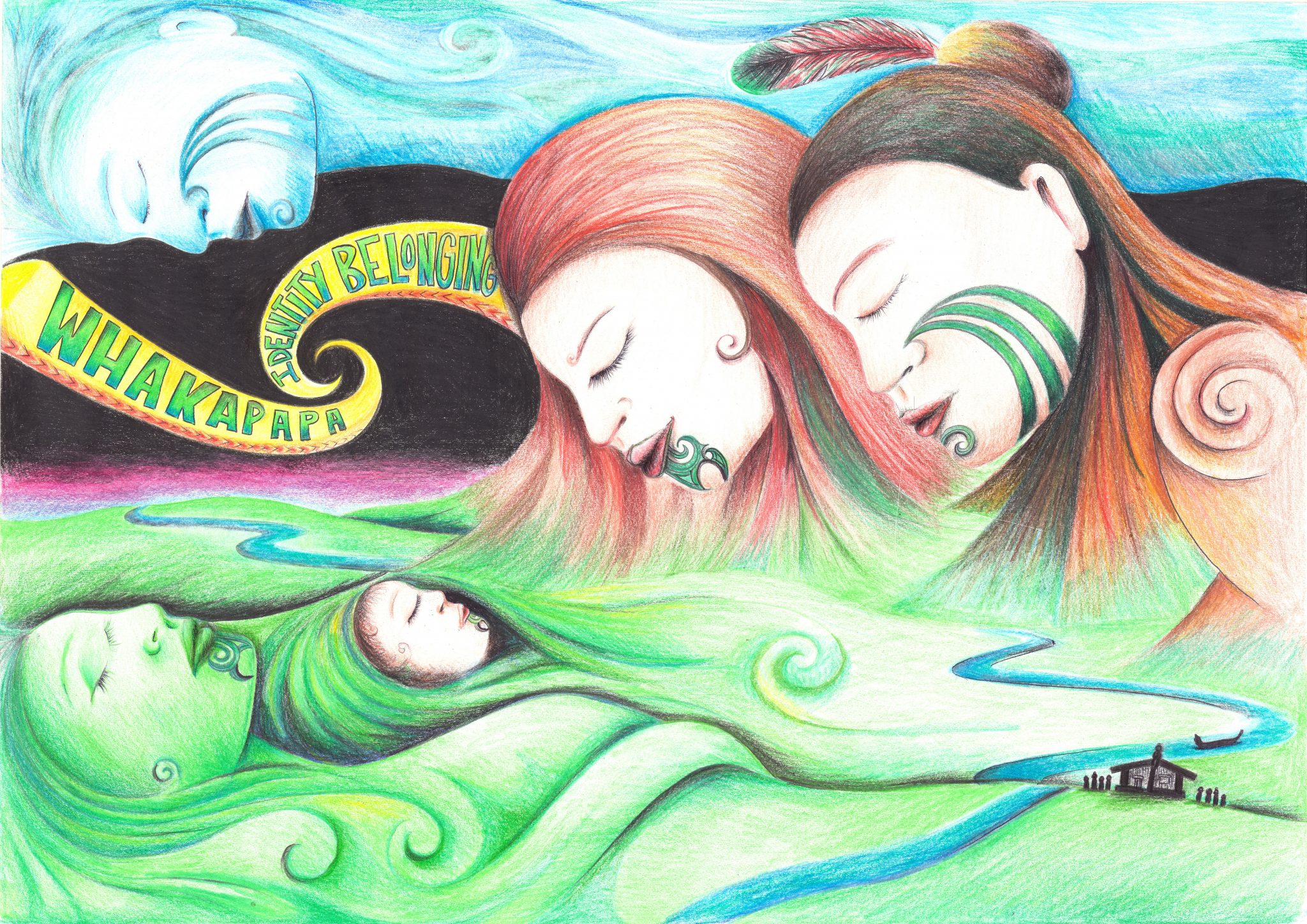 Ngatoia Skipper-Whaanga Pincott's design attracted 700 votes, almost twice as many as her closest competitor, to win the Most Votes section in the 2018 competition.
She says the design for her poster came to her as a vision.
"I started thinking about it then, boom, the vision of two kuia looking down on a mother holding her pepi was just there."
She adds, with a laugh, that she included a tāne in the design 'because you can't have babies, or whakapapa for that matter, without a tāne.'
Ngatoia (Ngāti Raukawa, Rangitaane, Kahungunu, Ngāi Tūhoe, Rongowhakaata, Te Aitanga-a-Maahaki, Rakaipaaka and Rongomaiwahine) lives in Gisborne and works with her family's trust, Mauria Te Pono Trust as the Kaihanga Rauemi, developing resources to help whānau find tools and create strategies to help them with alcohol, drug and other social issues.
She says that her own journey into te ao Māori started 13 years ago when her baby sister, nieces and little cousins started at kohanga reo in the Manawatu.
"They inspired me to go back to our marae and learn my whakapapa and pepeha."
"I came to understand how important it is for all of us to know our whakapapa and to stand strong in your own self and your own identity."
The first-ever E Tū Whānau poster competition was based around three of the values that underpin the E Tū Whānau kaupapa:
AROHA – giving with no expectation of return
MANA MANAAKI – building the mana of others through nurturing, growing and challenging
WHAKAPAPA –knowing who you are and where you belong