An umbilical cord wraps around whanaunga connecting them to their waka and their marae, in Richard Murray's multi-layered, winning entry in the Whakapapa the section of the inaugural E Tū Whānau poster competition.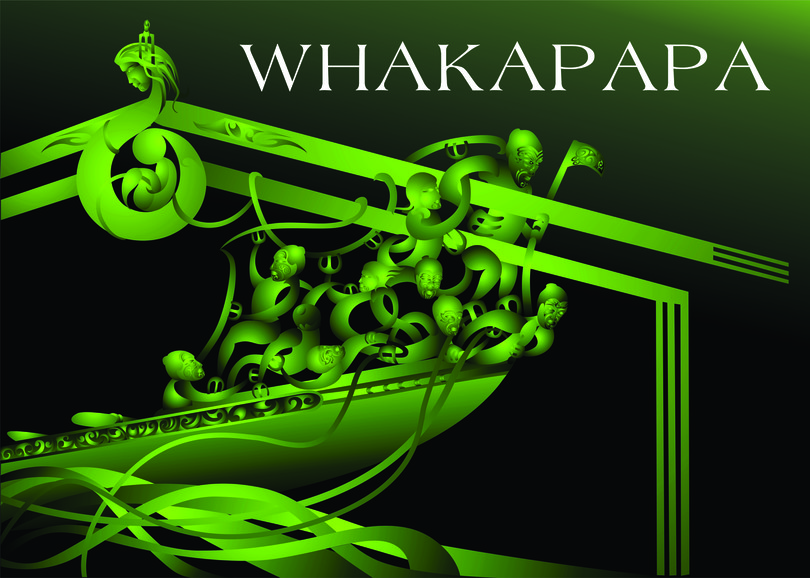 Competition judge, Kura Te Waru-Rewiri, says Richards design has "a sense of determination and resilience to hold fast to whakapapa and the connections we make".
"Some hold on to that it through the journey of life and some let go," she says.
"It all starts with that female figure at the top of the house, and the embryo she carries within," says Richard. "Whakapapa ki te here tangata."
Richard (Te Rarawa), from Ahipara drew inspiration for the design from his own whakapapa to the Mārmari waka and to Te Kotahitanga, his marae on the Whangape Harbour in the far North. He's an experienced graphic artist but for the last 35 years, he's worked with the Waitomo Papakainga Development Society providing services to whānau grappling with the impact of various social issues on their lives.
"Ultimately, we're working to help them determine their Tino Rangatiratanga," he says.
"My art provides me with that other place where I can go to for respite from this challenging work."
Design a poster
The competition to design a poster was based around three of the values that underpin the E Tū Whānau kaupapa:
AROHA – giving with no expectation of return
MANA MANAAKI – building the mana of others through nurturing, growing and challenging
WHAKAPAPA –knowing who you are and where you belong.
E Tū Whānau is a movement for positive change developed by Māori for Māori. It's about communities  taking responsibility and action and supporting whānau to thrive.
Entrants could use any medium to depict a value and could enter as many times as they liked. More than 250 entries were received overall.
See all the poster competition winners here
Check out the awesome entries on our Facebook page here