When E Tū Whānau's Norm Hewitt and a Taupo-based group called Manurere visited Taupo-Nui-a-Tia college recently, their welcome was passionate and powerful.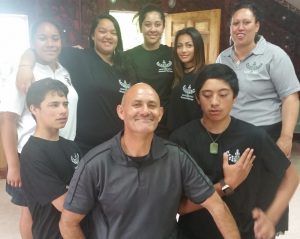 They'd gathered for a two-day noho organised by the six foundational members of Taumata Hiringa, Manurere's rangatahi branch who are also senior Taupo-Nui-a-Tia students. Manurere was set up to support whānau at a local level. The rangatahi, like their elders, have been inspired by the transformational Wāhine Ora and Tāne Ora programmes. They'd come together, as one young wahine put it, "to talk and start healing what needs to be healed in our respective whānau."
Haka pōwhiri
The passionate haka pōwhiri opened the hearts of students and manuhiri, as it was meant to. It helped prepare the 60-strong student body, their teachers and guests for the emotional roller coaster that followed.
They'd all gathered in the school hall to watch the documentary, Making Good Men, about the violence Norm inflicted on actor Manu Bennett when they were both schoolboys at Te Aute College, and their shared and personal journeys to heal the scars of that encounter.
All eyes were riveted to the screen as the brutally honest story of intergenerational violence faced, and defeated, played out.
Norm stood up to talk from the heart with his young audience about what he was going through when he was their age.
He spoke of the sexual, physical and emotional abuse he suffered, his overwhelming anger and the terrible physical abuse he dealt out to others before a crisis in his professional adult life forced him to dig deep and acknowledge his anger. He spoke of finding its source and taking responsibility for the mistakes he'd made before forgiving and being forgiven himself.
Power to change is within
He reminded them that the power to change things for the better was always within them.
"It is you who can decide. But I want you to know you are not alone, and I want to lift you up."
His audience was visibly moved. Some perhaps related only too well to his experiences. Many were thoughtful. Others cried. As their peers processed what they'd just seen and heard, the rangatahi of Taumata Hiringa moved quietly beside those crying in a gesture of comfort and support.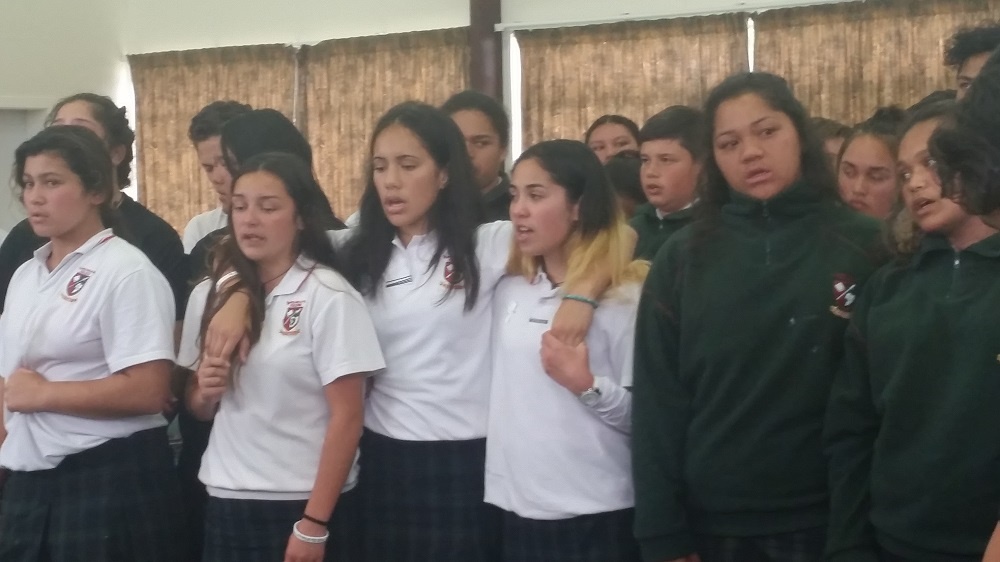 At the end of Norm's kōrero, the rangatahi came together as one whānau to haka to Norm for his honesty and trust in their strength in a way that surpassed their haka pōwhiri in genuine respect and aroha. This time the tears were in Norm's eyes.
The mood changed again and lightened as the rangatahi returned to laughing, fooling around, talking amongst themselves, and just being kids who were getting ready to finish school for the weekend break.
Manaakitanga in action
The Taumata Hiringa rangatahi stayed on. They spent the night on the marae with Manurere whānau and Tāne and Wāhine Ora kaimahi Kim Eriksen and Brendon Downs to deepen their understanding of their kaupapa, have fun and learn more about caring for themselves so that they can continue to care for others. It was manaakitanga all round.
Two of the Taumata Hiringa members, Neli Mativa and Conrad Fleming spoke openly about their own challenges in the course of the hui.
"I've been through it (family violence). I ran away quite a bit to get away from it. When I was 11, I walked all the way from Kinlock to Taupo. But I'm no longer scared. I've had support and I'm determined to change things and support other young people facing the same things," said Neli whose parents both belong to Manurere.
Conrad Fleming talked about how he dealt with bullying.
"I don't get bullied now. I can stick up for myself. Me and mum worked it out together. I go to Muay Thai boxing now with my mum."
Kim Eriksen sees clearly the role these young people will have in the future.
"We give them guidance," says Kim, "but they're not waiting for adults to come up with ideas or answers or do things for them. These rangatahi are our future. They're going to lead the way for us."