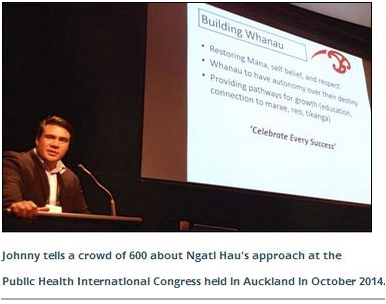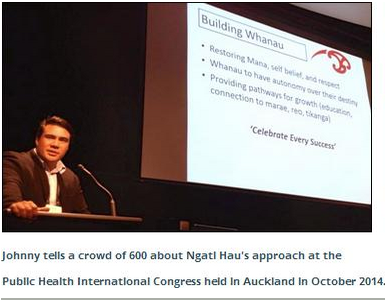 Johnny Seve sees his role as Kaimahi at Ngāti Hau Health and Social Services (NHHSS) as a great way to walk alongside people in need of a helping hand. He approaches a new person or whānau very gently.
"Families are often reluctant to engage for one reason or another. I take off my formal hat, and try to get to know them. It might be sharing kai, hanging out, talking about all sorts of things apart from the problems they are having. It's about taking time to get to know them, to engage, build trust, and to build the relationship."
Johnny's parents are Samoan and his children are Ngāti Hau through their mother. He's worked with the NHHSS since the start of 2014 and loves the flexibility that his role gives him to work with people where they're at.
Creating independence
Johnny says that the goal is always independence, but it can take a while to get there.
"I worked with a woman for six months who was trapped in domestic violence. I started out by taking her some kai and groceries, and I cooked with her. We went to the marae for different events, and that re-connected her. Over time she got back on her feet and eventually she wanted to help friends in a similar situation."
Focus on positives
Johnny's focus is on the positives – he uses a strengths-based approach that fits perfectly with the E Tū Whānau values of manaaki, aroha and whanuangatanga.
"The nature of our work here is based on the traditional values that E Tū Whānau promotes – we treat people with respect, and we show them that we care."
Johnny looks for ways to engage with whānau, and education is one of those ways. "We are working with NorthTec to get people into two trades training courses. It provides a great incentive and gives people a focus."
E Tū Whānau Ambassadors
The E Tū Whānau approach sits nicely alongside his work. "We have E Tū Whānau Ambassadors who are members of the hapū. They put on their E Tū Whānau teeshirts and hats and hand out packs of resources at events. The cards and their slogans help whanau talk to each other and reinforce traditional values. They provide the tools people need to move forward.
"In my experience, lots of people want to better themselveCreating independences but are often put off by the barriers they come up against in government agencies and places they want to study. So it's important to be real with people. I say, 'We might not be able to do this, but let's give it a try'."
Committing to change
He says it's hard work getting families to commit to longterm change – especially when there are entrenched in inter-generational issues of violence, unemployment, and poverty.
"We work together to unpick the issues that hide things like anxiety, depression and post-traumatic stress disorder. It takes time for a shift to occur. But in my experience, there's lots of at-risk whānau who are motivated to change.
"It helps that we can be dynamic and flexible in our role as kaimahi. I think whānau see me as a 'fixer' – I can help them access the services and information they need. But it's important not to over-promise. And at the end of the day, people have to bring about their own change.
"I say to them, 'You need to drive this. This is your vision; I can't do this for you.'"
"But the important thing is that I use a strengths-based focus. I try and help them become confident, and when they realise that someone sees something good in them, they start to feel like they have something to offer."