Over three days in July, 89 rangatahi representing 26 cultures and ethnicities came together for leadership workshops, cultural celebration, and fun at PALM Symposium 2021. They left the event, which was held at Tui Ridge Park, Rotorua with a stronger sense of their own potential to shape the future of their communities and motivated to get on with the job.
PALM (Peaceful Action Leadership Movement) Symposium is a biannual event run by E Tū Whānau. Since 2017, the kaupapa has brought rangatahi from diverse ethnic communities together to build mutually beneficial leadership aspirations and networks across Aotearoa New Zealand.
In this vision, local communities – as well as New Zealand as a whole – are strengthened by rangatahi encountering themselves, and each other, while also looking to their own futures and those of their communities.
"When we were talking about what we want to see in the future, it wasn't just about ourselves – it was about the future generations too. We talked about a better justice system, a better education system."

Annie-Mitchell Kalekale (Tonga and Cook Islands)
Rangatahi step up
The moemoeā of PALM is to ensure that by 2050, when the New Zealand population is projected to be much more ethnically diverse than today, strong networks are in place between people who are prepared – and willing – to lead their communities.
Taking significant steps towards this, PALM Symposium 2021 offered rangatahi opportunities to grow their own leadership skills, visions, and connections. This prepared them to work together to shape their communities in positive ways. For the first time, rangatahi leaders MC'd the event, setting a light, enthusiastic and welcoming tone right from the get-go.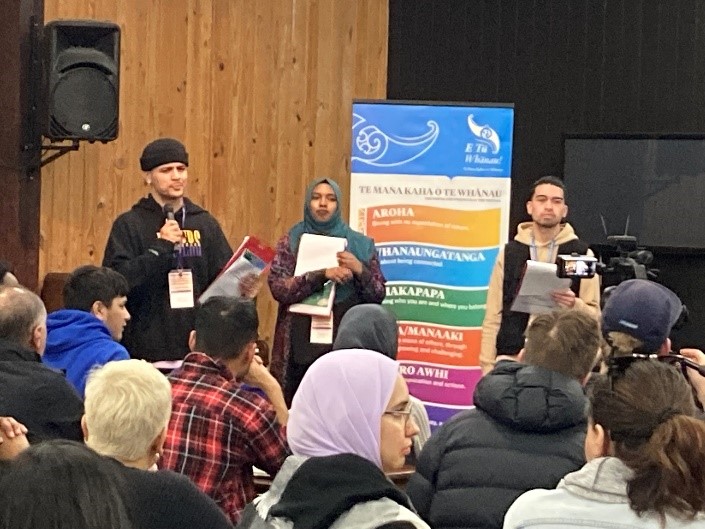 This approach was central to the success of the event. It was also responsible for the high levels of engagement by rangatahi.
"It was cool to see rangatahi owning their own space," says Shaneece Brunning (Ngāi Tūhoe, Te Whānau-ā- Apanui, and Ngāti Raukawa Ki Te Tonga) E Tū Whānau Advisor, and PALM Symposium 2021 event co-ordinator.
Developing future leaders at PALM Symposium 2021
Over the course of PALM 2021, which began with a pōwhiri at Tarimano Marae, Awahou, rangatahi engaged in workshops that explored ikigai, or the concept of finding joy through knowing oneself. They staged a cultural event, and took part in a spoken word workshop with Te Kahu Rolleston (Ngāi Te Rangi) – acclaimed performance poet, and host of the E Tū Whānau Spoken Word Competition 2021. Alongside Ngā Pakiaka, of Māoriland Charitable Trust, rangatahi also worked together in groups to make short films that explored the theme of PALM Symposium 2021: Narrative of your journey: Yesterday, today and tomorrow.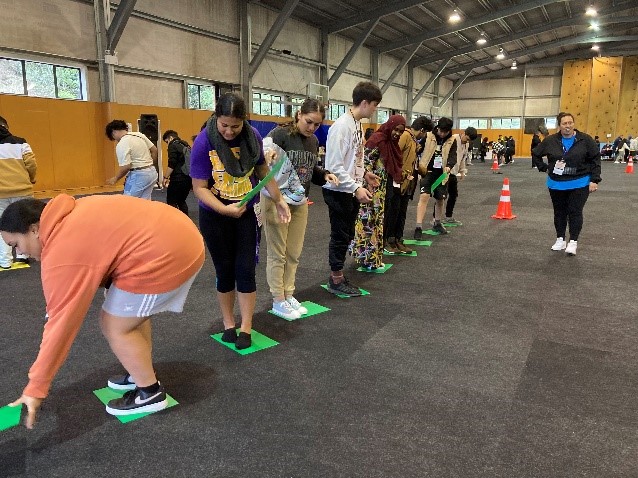 "As a rangatahi leader, the workshops gave me a guide to being a better leader, and a better version of myself."

Rongonui-Atea Kahurangi (Tūwharetoa, and Niuean heritage)
The future in rangatahi hands
PALM was the vision of the late E Tū Whānau kaiwhakahaere, Ann Dysart. The kaupapa looks to the future by focusing on nurturing potential in the present. To this end, those who attended PALM 2021 voted to establish a seven-member Youth Reference Group. This rōpū is tasked with ensuring that the PALM kaupapa continues to flourish, and with supporting rangatahi as they shape the future of their ethnic communities together, wherever they may be in Aotearoa New Zealand.
"The struggles that we've been through are the trophies that we get to hold when we overcome them."

Annie-Mitchell Kalekale
Want more?
To find out more about local or national PALM events, drop us an email, or Facebook message.
Read about E Tū Whānau kaupapa, vision, and Mahere Rautaki (Framework for Change) 2019 – 2023.
Join the E Tū Whānau communities on Facebook, Instagram and YouTube.
Find out more about Ngā Pakiaka, or Māoriland Charitable Trust.