Te Kahu Rolleston (Ngāi Te Rangi), host of the E Tū Whānau Spoken Word Competition 2021, is a respected and accomplished poet and performer of spoken word. He has also always sought out new perspectives and fresh ways of connecting by breaking with convention. "Personally, I've never felt like I fit within a box," he says.
Since school days, Te Kahu's struggle to conform to requirements and social systems has found voice in poetry. He embraces the lack of convention in spoken word in particular, which he uses to celebrate Māori identity and experience, as well as a way to chart new ways of connecting with others, and the world.
The E Tū Whānau Spoken Word Competition 2021 gives him another opportunity to do that.
"I love its spirit of open participation, the way it gives people the ability to enter a national spoken word competition from their bedroom."
Te Kahu's own track record is of excelling in competitions – and beyond. Among other achievements, he has delivered at TEDxTauranga, won the 2013 NZ Poetry Slam final, and attended the prestigious Banff Centre's Indigenous Writing Programme.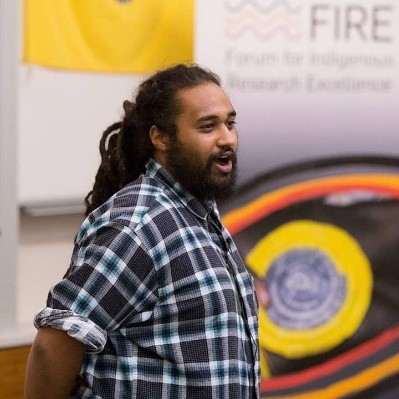 Spoken word as a success factor with rangatahi
After graduating from Waikato University with a double major in Media and Communication, and Social Science, Te Kahu completed Honours in Critical Discourse Analysis.
Soon after, the direction of his professional life was set when he found a channel for his desire to use spoken word to help rangatahi explore issues that matter to them. He cares deeply about helping people to find their own unique voice, but his approach has always been light.
"I'm the sort of person who enjoys to laugh when I work. When you're teaching young people, if you can help them to laugh while working happens, it takes the engagement to a really high level."
Te Kahu's first engagement saw him travelling around the country with Enviroschools, using poetry as a tool to connect people with Papatūānuku, and with one another. Work with Community Law then saw him use spoken word to educate young people about the law. He says that success in work such a this is dependent on the connection he makes with rangatahi.
"The other stuff will work if the energy is right," he says.
In his current role in the Writers in Schools programme offered by Read NZ, he never presents creative mahi as a problem. Instead, he approaches spoken word poetry as something to be solved in any number of ways, depending what works for the individual.
"People have ways of speaking that best fit them. That's the thing that really shines in spoken word poetry. You get to see people communicate in the way that best fits them."
Challenge to the mainstream
Te Kahu grew up in Tauranga. With his whānau coming from Matakana Island, Tauranga moana is central to his whakapapa.
It was also the source of inspiration for his widely-shared poem, The Rina – the first performance piece he ever wrote, and one which is still close to his heart. Itis about the 2011 sinking of the Rina in Tauranga moana, and in it he challenges the handling of New Zealand's worst-ever maritime disaster by mainstream media, while also examining the culture clash of "money versus mana."
"That was when I first found that spoken word poetry was an avenue to share another perspective that may not have been seen by the mainstream."
For Te Kahu, the power of spoken word poetry to resonate deeply with people lies in its universality, and because it is a platform available to people who may not have any other for sharing their thoughts.
The lack of convention around form and style in spoken word is what makes it attractive, Te Kahu says. It also makes it accessible to many people, as there's no particular box that people have to fit within.
"Spoken word is quite freeing for adults who never felt comfortable, or who were never able to fit within, conventional poetry formats."
E Tū Whānau Spoken Word Competition 2021
The theme of the competition is Nga Moemoeā – Hopes and dreams for my world, my future, my whānau, and entries are invited from people of all ages, and in any language. The competition closes on 13th August 2021, and entries must show connection to the E Tū Whānau kaupapa.
The E Tū Whānau Spoken Word Competition 2021 is run in partnership with Māori Media Network and Action Education.
Want more?
Learn more about the E Tū Whānau Spoken Word Competition 2021
Join the E Tū Whānau communities on Facebook, Instagram and YouTube.
Sign the E Tū Whānau Charter of Commitment and receive regular Pānui.