A recent hikoi to Waitangi by leaders of migrant communities is part of a well-established commitment by Multicultural New Zealand to maintain a genuine partnership as Te Tiriti partners with tangata whenua.
In April, the fifty-strong group of men and women from 30 different migrant communities spent two days bussing around Te Tai Tokerau meeting with Māori whānau to learn about local history and Te Tiriti o Waitangi.
In Whangārei, kaumātua Te Amorangi Taipari Munro (Te Uriroroi, Te Parawhau, Ngati Wai, Ngati Te Tawera, Te Waiariki, Ngati Hine, Ngāpuhi) welcomed them to Terenga Parāoa Marae (Whare nui Kaka Porowini). He introduced them to Te Whare Tapa Whā – a Māori concept of health and wellbeing.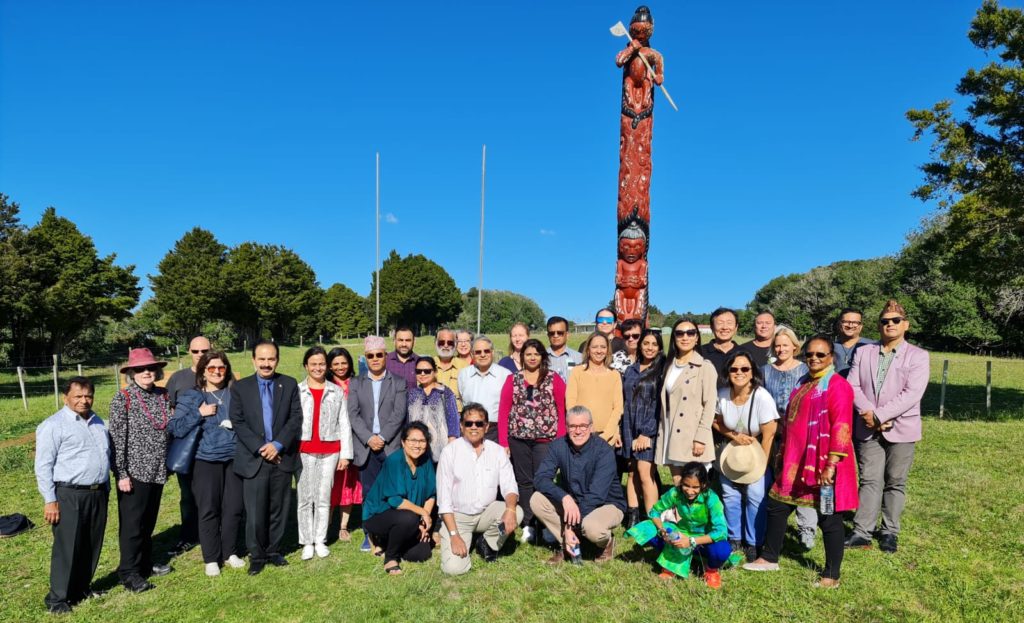 They then travelled to Ruapekepeka to learn about a battle fought in January 1846. This was between colonial forces and Ngāpuhi, led by Hone Heke and Te Ruki Kawiti.
Multicultural NZ National President, Pancha Narayanan described the whole trip as "a wananga through immersion."
"Our wairua grew along with our journey."

Pancha Narayanan
When they reached Waitangi, the group was given a traditional welcome onto the marae.  Along with haukāinga kaumatua Peta Tipene of the Waitangi Grounds Trust, they commemorated the occasion by planting a kauri tree on the Treaty grounds. This gesture cemented the group's roots as Te Tiriti partners, marking their recognition and endorsement of Te Tiriti o Waitangi.
They called the tree 'Mokopuna', a reference to a comment made by Te Atiawa leader, Dr Kara Puketapu, when welcoming migrants to his marae at Waiwhetu in Lower Hutt. "Everyone," he would say, "is a grandchild of someone."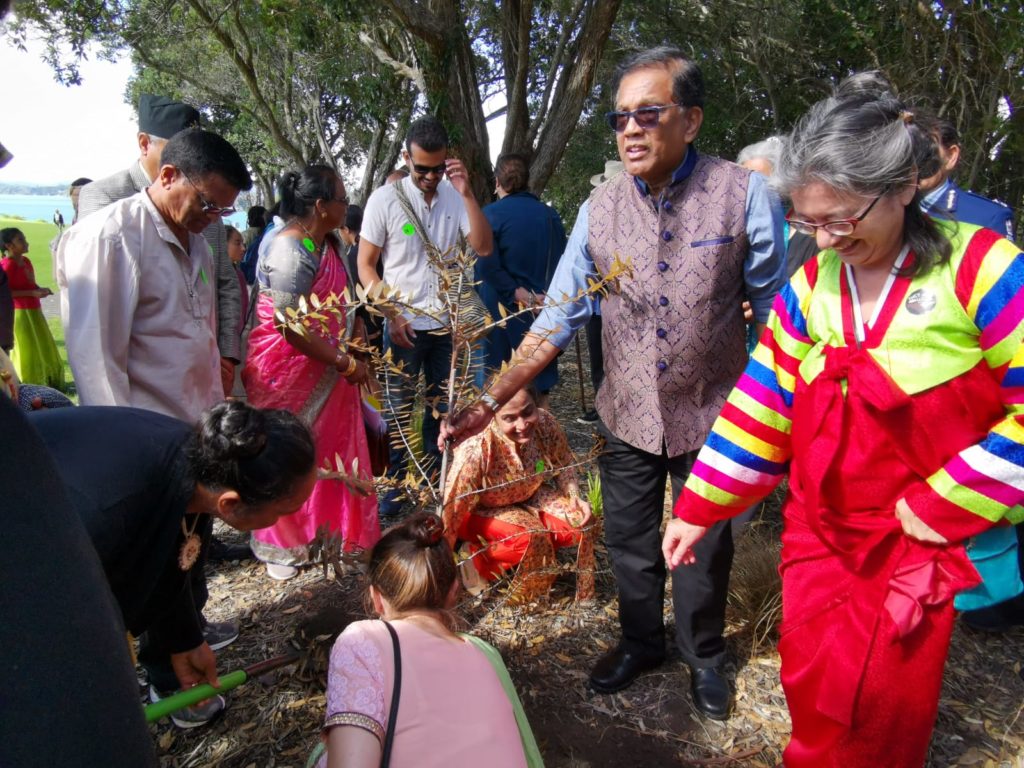 Migrants to New Zealand supported to be Te Tiriti partners
In 2018, Multicultural NZ launched Huarahi hou, an initiative developed and led by Pancha Narayanan and Upper Hutt Multicultural Council. Under the guidance of Dr Puketau, this initiative welcomes new migrants onto marae, and invites them to participate as Te Tiriti partners in a range of tikanga Māori activities led by tangata whenua.
Māori are often the first New Zealanders new migrants bond with because their cultures are collective and family focused, like Māori culture. "Through these personal relationships, we've come to understand that New Zealand is a multicultural society in which Māori have special status as tangata whenua and special indigenous rights under the Treaty of Waitangi," says Pancha.
He adds that members of Multicultural NZ believe that Te Tiriti is for everyone in Aotearoa, including recent migrants as tangata tiriti.
"Te Tiriti is the foundation for an inclusive, respectful multicultural society."

Pancha Narayanan
Pancha credits the late E Tū Whānau kaiwhakahaere, Ann Dysart, as the inspiration for Multicultural NZ's strategic decision to develop a deep and genuine partnership with tangata whenua. This decision incorporated the E Tū Whānau values, and has formally committed to a Treaty-based, multicultural society.
"Ann Dysart started the conversation and helped us build relationships with tangata whenua. The first person we approached was Mohi Wahi, a kaumātua at Orongomai Marae in Upper Hutt who welcomed us with open arms," Pancha says.
Today, Tā Mark Solomon is one of Multicultural NZ's patrons. Like Kara Puketapu, Dame Iritana Tawhiwhirangi is a valued mentor.
Pancha discussed the idea of planting a kauri tree at Waitangi with Ann Dysart shortly before she died. He had wanted Ann, who also came from the north, to be at the centre of the hikoi. He said she would have wanted to participate, and was there in spirit.
"Ann was right behind the idea and, I believe, she was with us when we walked onto the upper marae at Waitangi on a beautiful, sunny February morning.

There was not a cloud in the sky when we entered the whare tīpuna, but during the pōwhiri the sky broke and we heard the patter-patter on the roof. When we emerged, the sun was out again, and I felt Ann's presence and blessings. I felt she was there with us, all the way."

Pancha Narayanan
Want to know more?
Read about E Tū Whānau kaupapa, vision, and Mahere Rautaki (Framework for Change) 2019 – 2023
Join the E Tū Whānau communities on Facebook, Instagram and YouTube.
Sign the E Tū Whānau Charter of Commitment and receive regular Pānui.