Te Ara Pounamu (aka Reign), Te Maumahara Pukeroa, and Te Ahu Manuel Larkins are three siblings from Rotorua who've been making music together most of their lives. Their song Unconscious Bias has taken out third place in the Open Category of the 2020 E Tū Whānau song competition, winning them $1500 in cash.
Woven through with laid-back melodies and catchy rhythms, Unconscious Bias speaks to the restlessness felt by many at the slow pace of change to historic and systematic prejudices and injustices.
"We woke, white society sidelined …
It's another day, move on.
We ain't looking back no more."
Listen to Unconscious Bias here.
Hard messages softened by upbeat melodies
With lyrics by the musicians' parents, Robyn Manuel and Kepa Morgan, Unconscious Bias takes aim at painful and damaging kaupapa – such as institutional racism and white privilege – that limit opportunities and deliver unequal privileges.
Reign stresses, however, that their approach in making music is to deliver these blunt messages in a peaceful way. He says they work collaboratively as musicians towards the goal of opening minds through music without causing offence. He feels they achieve this in the composition of Unconscious Bias, with an upbeat melody contrasting the song's hard-hitting lyrics.
"Unconscious bias tryna define us,
Get so distracted that we focus on deficits,
"Stereotypes. White fragility, it bites."
Whanaungatanga, aroha and kōrero awhi
In the place of division and damage caused by unconscious bias, this waiata offers a kaupapa of positivity and gentleness – of enabling people to overcome through unity.
As Te Ahu explains, the chorus contains the most important line in the song. It opens the way for positive change through whanaungatanga and manaakitanga:
"If we don't watch each other,
Promise that we don't stand a chance."
Additionally, to those who experience bias and other forms of discrimination, unconscious or otherwise, Reign extends aroha. He stresses that, while they may feel isolated, they are not alone. Kōrero awhi with people they trust offers release through connection with others, he says.
"Courageous conversations free the mind," they sing.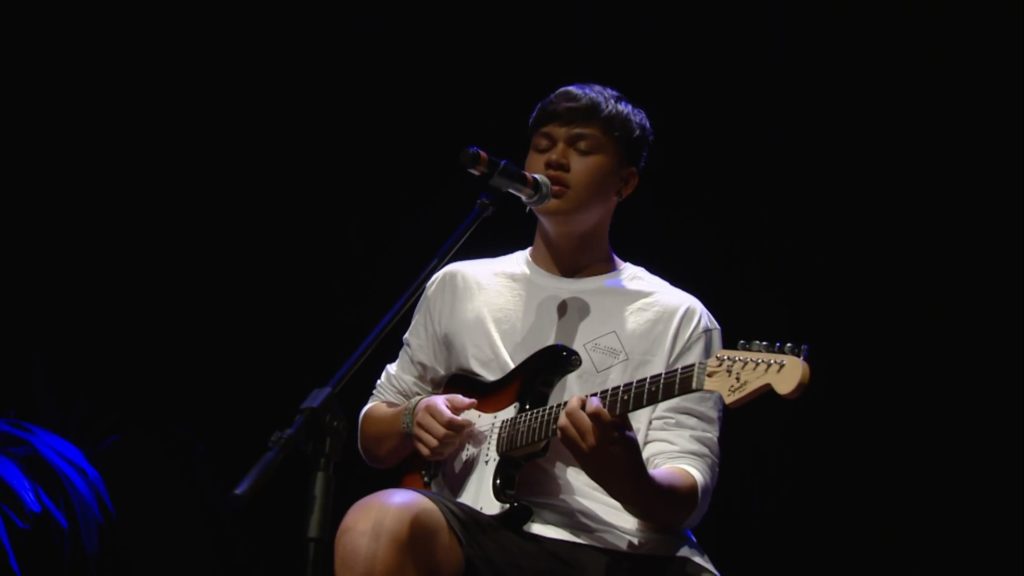 Te Ara Pounamu – lyricist and vocalist of Unconscious Bias
Musicians to watch
For all three siblings, music is significant and powerful. Music, and the creativity that lies at its heart, brings them together. It's also a refuge, a source of inspiration and personal renewal for them.
"Music soothes my mind. It helps me relax and think calmly and collectively. It's a form of meditation for me," Te Ahu says.
Music has also brought these musicians considerable success. With Te Ahu clocking up his first win in a cruise ship singing competition, Reign and Te Maumahara went on to win their school talent quest. They have also won the People's Choice Award in Maori Television's Korihi Song Competition in October 2020 and, playing with a separate band, Reign placed second equal in the 2020 Te Manu Tito Waiata – Rotorua Song Writing Competition.
However, despite such impressive successes, the musicians are clear about two things: the importance of never letting other people define your limits, and the need to stay present and connected to those around you.
"Keep humble, because there are always better people out there," says Te Maumahara.
Want to know more about E Tū Whānau?
Read about the E Tū Whānau values
Sign the Charter of Commitment and sign up for our Pānui