Renee Davies and the team at Tihei Rangatahi in Wainuiomata are all about empowering young Māori for lives of autonomy and sustainability.
"I always tell my team, nothing's impossible," says Renee.
Building on the opportunities they already offer rangatahi after school each day – such as radio broadcasting, dance classes, and learning to cook – Tihei Rangatahi is now teaching them how to restore furniture. They're nurturing life and business skills, building the autonomy of Māori youth, and motivating them to lead zero-waste lives that respect Papatūānuku.
Tihei Rangatahi – a surplus mindset
As a community-based after-school group, Tihei Rangatahi creates opportunity for young people through inclusion and sustainability. What's more, as part of Kōkiri Marae in Seaview, they are concerned with empowering young Māori with tikanga, and a Te Ao Māori point of view.
They also operate from a surplus mindset that sees capacity and potential in all people and their whānau. Team leader, Renee Davies, believes that when people are supported to upskill, when they are able to give back and enhance their mana, their spirits are lifted.
"A lot of people, especially Māori, they just need to be empowered," says Renee.
Rangatahi leading the way to zero-waste
Working in partnership with Para Kore – the kaupapa Māori programme embedding zero-waste habits within marae and whānau across Aotearoa, rangatahi are restoring and upcycling old furniture from start to finish themselves.
They plan to sell the furniture online and raise funds to help achieve goals they set for themselves, such as trips to places they've never been before.
The idea to upcycle and sell furniture arose out of kōrero about the value of possessions, sustainability and how to pay for food. At the time, Renee and the team saw the opportunity to teach young Māori business skills, and to discuss good financial habits as a way to increasing their opportunity in life, along with their mana.
Importantly, rangatahi are also learning tikanga, such as the need to care for Papatūānuku through reducing landfill, and minimising the demand for new resources through zero-waste living.
Renee stresses that this project puts young Māori at the centre, making room for their initiative, and seeking their input in all stages.
"You gotta get them young, and someone has to support them."
It all began when the team put out the call for donations of unwanted furniture. Thanks to their strong connections with whānau in their rohe, they received so much that it now threatens to overflow the recording studio where it's being stored.
Now, after school each day, rangatahi can be found hard at work on the set of four matching chairs they selected to begin with. Having researched online what needs to be done, they're restoring the chairs according to designs they decided on together.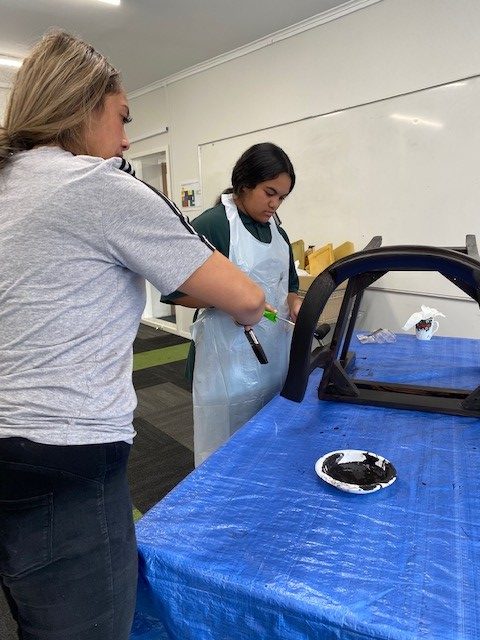 Currently they're painting the chairs, after sanding them back by hand. Once they're done with the upholstery, the rangatahi will focus on setting up online, moving them closer to their financial goal. Then, they'll start over with different items of furniture, opening further opportunities in their lives as they do.
Partnering with E Tū Whānau
Renee Davies and her team are driven by the vision of Tihei Rangatahi being a learning hub for the community, and this project is no exception. Indeed, Tihei Rangatahi is an example of the community-led change that E Tū Whānau supports and partners with.
Renee says that the Tikanga and values behind E Tū Whānau are significant, that they guide the work that Tihei Rangatahi do with Māori. What is also important to Renee is that, as a partner supporting positive change, E Tū Whānau adopts a soft approach, and is process-orientated.
"They just let us do our own thing. E Tū Whānau is not output-focused like others are. E Tū Whānau hears our need and lets us meet it. They let us work our own process."