Kainga, turangawaewae, ahi kaa, home.  For many of us home is where we live, where we come from or where we feel we belong.  For Naima Ali, a Somali born New Zealander from a refugee background,  'home' is neither here, in Aotearoa, nor there, on the dusty plains of Somalia.  'Home' is the fragrance of frankincense.
Naima, who is currently studying for a Masters of Human Rights at AUT in Auckland, recently made a short film for an assignment that asked a simple question; What do you call home?
Her answer is the rich fragrance emitted when frankincense, the dried sap of Boswelli trees is burned as incense. It's a smell she associates strongly with her mother, her culture and her identity.
Naima and her family came to New Zealand 17 years ago.  Her father was an engineer who hailed from a long line of fishermen. Naima's mother is from a nomadic tribe of cattle herders and spent much of her life moving from one place to another even before civil war forced her and her young family to flee to the other side of the world and the safety of a life in Aotearoa.
"Wherever we are, wherever we've been, we burn frankincense.  It makes wherever we are a home.  Personally, I don't feel that I have a single home.  Where I am is my home and I always feel that I am home in that little moment when I first smell that familiar aroma of frankincense."
Naima also made a film about and with her cousin Saynab Muse.  Saynab is studying photography at Unitec in Auckland.  She is deaf, but as you'll see in the delightful video she made with Naima and the sign language interview she gave to an American website, Saynab  won't let her disability stand  in the way of her ambition to become a professional photographer.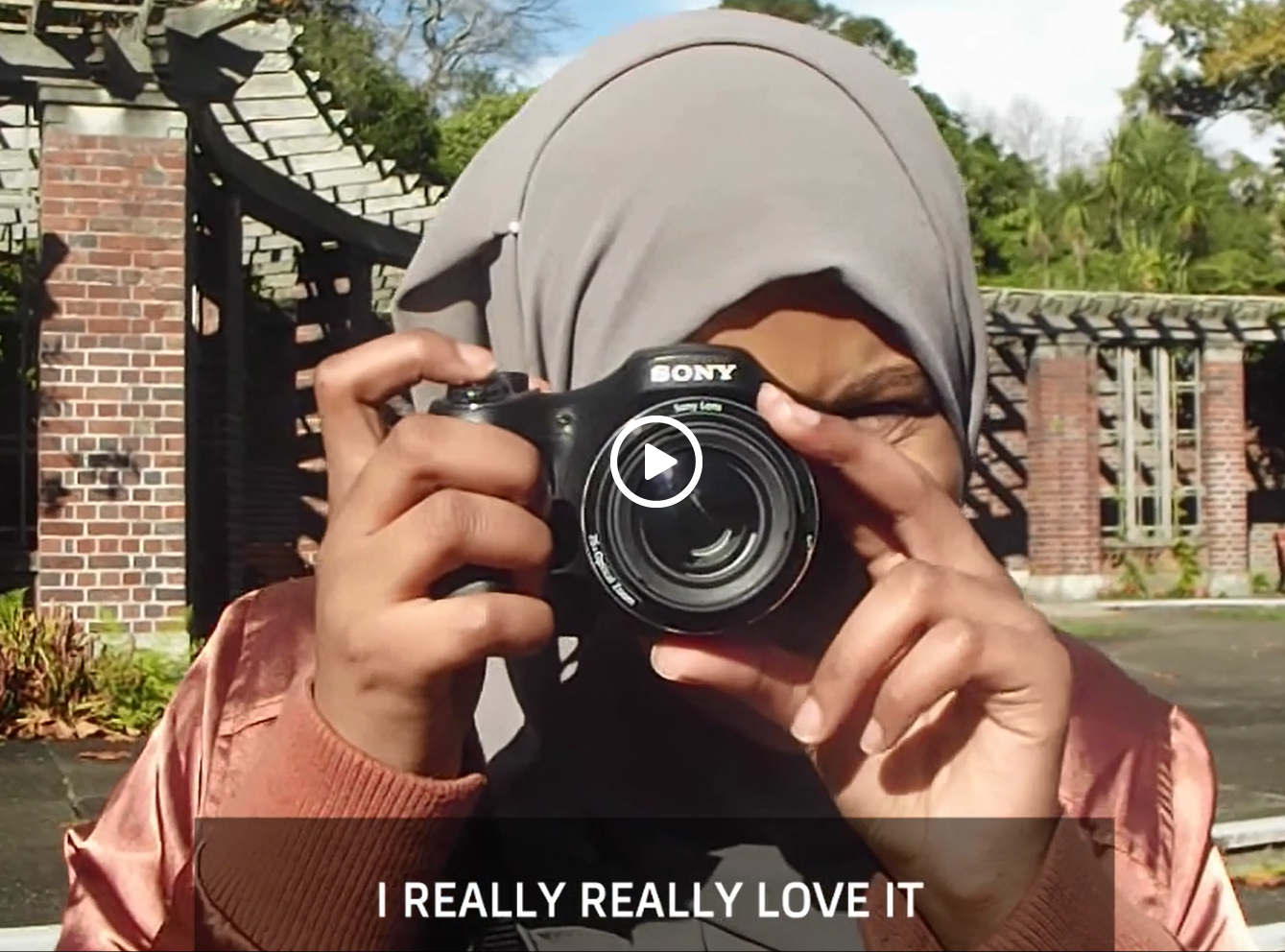 Watch Saynab's video here
"All of you deaf people, you can do it.  You can drive, you can get jobs, you can do anything."
Naima and Saynab are just two of the many young people from refugee backgrounds who have been nurtured and reassured by the links they've discovered between their cultures and Māori culture.
"We're from an indigenous culture too.  We're proud of our culture and of our very ancient whakapapa," says Naima.
"We can't forget the journey that brought us here and that our ancestors are sitting on our shoulders too.  Like Māori,  we remember our tipuna and we honour them."
"I've met so many who have lost so much. But they never lose their dreams for their children or their desire to better our world.  They ask for little in return – only our support in their time of greatest need."
UN Secretary-General, António Guterre