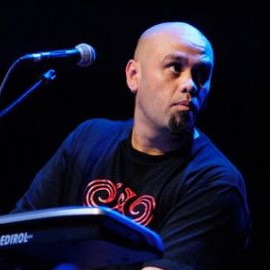 Maaka McGregor is one of the three judges of the E Tū Whānau Song Competition 2016.
He is a multi-award winning musician, producer and broadcast engineer.
Maaka started playing music in public when he was 14 and has since performed with more than 50 New Zealand bands and performers, including Upper Hutt Posse, Dam Native, South Side of Bombay, Scribe, WAI and Nathan Haines.
He has been a finalist in the prestigious World Music awards and has won the following New Zealand awards:
2015 – Produced and recorded VNZMA and MMA winner and APRA finalist – RANEA
2015 – Won Wellington theatre sound designer of the year – All Our Sons
2014 – Produced and recorded APRA Finalists – IWI
2013 – Produced and recorded the most played track on Māori radio – Te Rito.
Maaka has worked in the development of Māori broadcasting and the establishment of the first local Māori radio station, the first National Māori radio network and the first Māori television station in Aotearoa / New Zealand.