Mikaira Pau is very clear when he talks to kids about domestic violence.
"I tell them that family violence is not a part of our world. I tell them that any violence – bullying, smacking, violence against women – is not a part of our Ngāpuhi culture. Neither is swearing. There are no swear words in Māori. I challenge them to find one but no one has yet! It's important that they know who they are and where they come from. "
Mikaira runs an after school study hub in Kaikohe twice a week to support kids aged 11 to 17 years at school. It also has another purpose – to stop bullying and prevent violence in the community.
"It's all about building relationships. We do that through telling our stories, and playing games. I work out how best to interact with them."
The E Tū  Whānau values are part of the kaupapa.
"I use the E Tū  Whānau resources as prompts. They support the message that violence is not a part of our culture."
Agencies join forces to support youth
The after school study hub is supported by a collaboration of agencies called the Kaikohe Social Sector Trials Advisory Group. The Group includes people from iwi, local and central government, youth and community organisations. Together they have come up with an action plan for youth in their town. The plan addresses truancy, youth offending, alcohol and drug harm, and the need to increase engagement in education, training and employment. Underlying this is a recognition that the various providers and interest groups need to work together more effectively.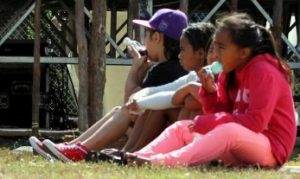 This initiative was in response to six key issues identified by youth in Te Tai Tokerau in the report, Northland: Youth Voices Consultation Report (Ministry of Youth Development, 2011). The youth population of the Kaikohe area is very high compared to other parts of New Zealand, with the 2006 Census identifying 32% of residents as being under 15 years old.
Something for everyone
The study hub offers lots of activities – music lessons, Te Reo Maori, numeracy and literacy support, hip hop dance, games, kapa haka, ping pong coaching, First Aid courses, and bicycling workshops. Local unicycle champion and enthusiast Christian Huriwai, is an important role model for other kids, supporting the study hub with his unicycling workshop.
Mikaira acknowledges Te Korowai Aroha o Aotearoa Trust for coming up with the conceptual framework for the way he works.
"They are the pioneers of this way of working. The kids get it – it been rolled out in the schools. Through that work they know our expectations of them. If they want to hang out with us, they know we don't tolerate violent behaviour.
"I say to them, 'Even though you've had a hard time, you have to get over it. There are always tensions in a group but the goal is to become friends'. We don't kick kids out of our programme – we work with them."