In 2013, the longterm and inspiring work of the Bream Bay Community Support Trust was recognised by the E Tū Whānau Collective Change Award for Action and Innovation. Read their story here.
Collective Change Award 2013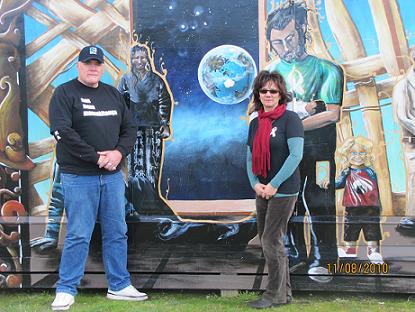 In 1994, the Bream Bay Community Support Trust was born. It was established to provide leadership around some of the challenges resulting from the town losing its main employer, the power station.
Phil Paikea, Ngāti Whatua and Ngāpuhi, and Sue Rudman, Tainui ki Whaingaroa (pictured right), have been supporting the Trust for many years, demonstrating their commitment and dedication to working alongside their community for change. From small beginnings, the two now have an impressive line-up of events and activities to support their community to take action on the issues they face.
In for the long haul
Some hours are paid, but most are unpaid. They say they are in it for the long haul, and they do whatever needs to be done to get people moving forward and taking responsibility for themselves and their whānau. And, they say, it's also important to respond immediately. "If something happens, we don't wait a week – we get onto it pretty quick," says Sue.
This means they have constantly adapted their work to meet the needs of their immediate community, but they also extend well beyond the Bay into other parts of Northland. They will pretty much go wherever they are needed. They had a big presence at Waitangi in 2013, promoting E Tū Whānau resources. In June 2013 they supported an anti-violence event organised by a Whangaroa-based health provider.
It's all about whānau
They will even create an event in order to promote the E Tū Whānau brand and anti-domestic violence messages. Like the touch rugby whānau day they had in Tokoroa. Sue's siblings and their whānau were all part of that event and she says much of what they do involves their own whānau who regularly step forward to support the kaupapa. "It's all about whānau so it's important that our whānau are there too, right alongside us." Their White Ribbon riders go everywhere they go, at any time of the year. Sue attributes this to the fact that "lots of our men want to be part of something that's bigger than themselves." The Trust's role is to ensure that the messages are clear and consistent for everything they do.
The Bream Bay Community Trust has also worked hard to get agencies that provide services to their community to come to the community. "Access is the biggest barrier for the people of Northland so it's important the services come to them," says Sue. The Trust hosts several agencies that offer clinics, information and other regular services.
Always a reason to celebrate
The Trust itself runs programmes for youth, and for men and women on domestic violence. They also run play groups, provide budget advice and support, employ a whānau support worker, and are involved in community work. That doesn't capture the countless informal activities and happenings that are always going on in the background that keep them community connected and strong.
So what keeps them going? How do they avoid burn-out?
"We come in with a smile and we walk out with a smile," says Phil Paikea.