Every one of us has a part to play in creating change, no matter how big or small. It's all about us as Māori taking responsibility to create the change we want.
What can you do right now?
Take action
E Tū Whānau is about taking action to support strong whānau living happy healthy lives without violence. We have created a number of resources to give you ideas.
Sign the Charter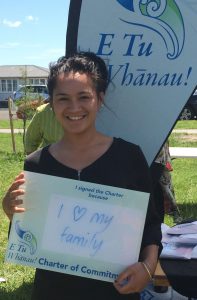 Māori have developed the E Tū Whānau Charter of Commitment as a call to action to whānau throughout the country to stand together against violence of all forms.
By signing, you are challenging yourself and others to think about the issues underlying the Charter. It is a step that anyone can take to encourage debate, action and change. Sign the Charter
Here's a good way to start – tell us why you signed the Charter. Put a face to it whānau. Take a selfie and post your comment on Facebook or send it to us by email.
What support can you get?
If you are involved in work or action that strengthens whānau and promotes change, you can contact us to discuss how the E Tū Whānau kaupapa and resources can support your work.
Some resources have been developed as tools to share the messages and spark change.  These include print and audio visual resources: DVDs, posters, pass along cards and brochures. See our resources here.
Who can use the E Tū Whānau logo?
The E Tū Whānau brand stands for the power and strength of whānau – te mana kaha o te whānau! It supports those actions and behaviours that help to eliminate violence within whānau.
We encourage use of the logo with the understanding that doing so comes with an obligation to uphold the E Tū Whānau values and principles through action.
The brand and logo can be used for specific projects or activities that are about making whānau strong in some way. They can be used in conjunction with your organisation's logo, to signal an organisational commitment to the E Tū Whānau values. Already some iwi, hapū, whānau, marae and towns have branded events and their own entities as 'E Tū'.
Please contact the E Tū Whānau team if you would like to use our logo.